Laser Icon
---
Icon is the most technologically advanced laser platform on the market. With years of experience Palomar has created a device that achieves optimal results with minimal treatment period of convalescence. It is the only one in the world equipped with a device to determine the level of skin melanin of patients and thus the optimal selection of safe therapeutic parameters. It is also the only laser that has received FDA certification confirming its efficacy in the treatment of scars and stretch marks.

Laser Icon (1540 head) and smoothing out wrinkles

Lux 1540 Fractional Laser is ideal for people who would like to get rid of fine wrinkles on the face, neck and neckline. This procedure is commonly called resurfacing. In addition to the effect of smoothing wrinkles, it improves firmness and density. It is firmer and visibly rejuvenated.
How does laser Icon smooth wrinkles?
Wrinkle treatment with Lux 1540 fractional laser microbeam uses light (from 100-320 microbeams in each pulse), which in a controlled way damages the selected area of treatment. Energy-microbeams penetrate the skin to a depth greater than 1.5 mm. This stimulates the emergence of new, healthy tissue. Wrinkle treatment requires no anaesthesia
The 1540 head allows for:
Adjustment of posttraumatic and traumatic scalding, postoperative acne scars (first treatment on the day of stitches being removed)

Removal of wrinkles on the face, neck and neckline

Increasing the tension of the supple skin throughout the body

Contraction of the abdominal wall after pregnancy (especially recommended in combination with Zaffiro surgery)

Elimination of stretch marks

Removal of molasses
---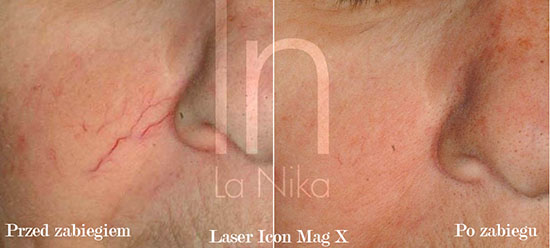 Dilated capillaries not only look unsightly, but also can contribute to health problems. The consequence of untreated blood vessels can, for example, be Rosacea. Therefore, it is recommended to start treatment quickly with Laser closure of the blood vessels using an ICON MaxG laser head and involves directing a beam of light inside the blood vessels without affecting the structure of the epidermis. As a result of coagulation the cell closes, and after 2-3 weeks is absorbed and generally no longer visible. Closing the capillaries with an ICON laser is fast, precise and very effective treatment.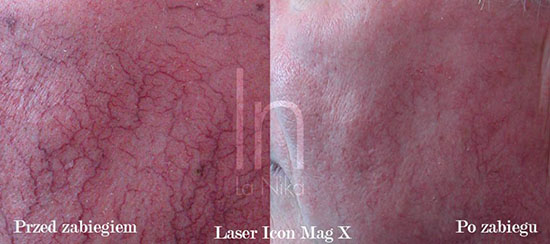 The advanced ICON technology platform is a definite leader on the world market. Depending on the individual laser operating parameters determined for each patient individually, we are able to close both these small blood vessels on the face, and the larger ones appear on the feet. In most cases, one treatment session is enough for closing the blood vessels to achieve the desired results.

The MaxG head allows for:
Removing sun spots and lentiginous stains,

Removing freckles

Removal of dilated capillaries on the face

Removal of erythema

Treatment of rosacea

Removal of vascular birthmarks such as ruby and port wine
The MaxR head allows for durability and is safe for all skin photo types, removing unwanted hair.

Contraindications for treatment
Pregnancy

Epilepsy

Fresh tan

Retinoid therapy

Medicine, photosensitizing herbs